Why instruct Simon Miller & Company Lettings to find you a Tenant?
Why instruct Simon Miller & Company Lettings to find you a tenant?
More networked offices & departments than any other local agent = More potential Tenants 
Innovative marketing strategies to maximise your property's profile and audience 
Highly trained Property professionals who are committed to providing exceptional service 
Access to your own 24/7 property account 
Large database of trusted contractors and expert tradespeople
NO LET = NO FEE
Pre-launch inspections
Our team of Lettings professionals will visit your property prior to marketing;
We make it our business to fully understand your property 
Enthusiasm and knowledge greatly increases the chances of securing the right Tenant 
Equipped to confidently answer all relevant questions relating to your property
Pre-tenancy inspection
Before a Tenant moves in, your Property Manager will revisit the property;
Fully inspect the property and make sure everything is ready for your new Tenant to move in 
Report any issues or concerns relating to the property swiftly prior to a Tenancy commencing 
Ensuring the tenancy gets underway smoothly
Make a difference
Showcase your property with professional photography. 
Ask us about our innovative elevated pole shots. 
Attract more property searches by making your property stand out from the crowd. 
Resulting in more enquiries, viewings and offers. 
Leave the rest to us!
Colour floorplans and 3D virtual property tours
Floorplans are one of the most important website features for buyers – We think the same for searching Tenants
Use a colour floorplan every time we advertise your property for rent 
Innovative marketing via our 3D Virtual tours using the lastest 4K technology 
Greatly improves the quality of viewing applicants, reduces cancellations and finds you a Tenant faster
Online Marketing… We've got it covered
With nearly 10,000 followers across Facebook, Twitter & Linkedin, our social media coverage is unrivalled. Constantly engaging with the public allows us to reach out to people like you, looking to rent properties like yours. go to our website at simonmillerlettings.co.uk, follow the links and see for yourself.
Working hard for you!
Extensive internal networked Tenant database
Searching Tenants pre-qualified before viewing
Phone, email & text communication with searching Tenants
Pro-active Property team working hard to generate viewings by phone
Protecting your investment, making your investment work for you
Qualified Tenants
All Tenants pre-qualified before viewing 
Employment Information & Minimum earnings 
Adverse credit? 
Pets? Children? Smokers? Number of Vehicles? 
Type of Tenancy, length and proposed
move in date
Accompanied viewings & Feedback
Viewings conducted by staff members familiar with your property
Realtime feedback provided by our 5 star rated online form
Constructive feedback delivered within 24 hours
See historic feedback and pending viewings anywhere 24/7
Dedicated Property Management Team
Our Property Managers' are on call to ensure any issues are dealt with promptly and professionally 
Track online work progress, handling and management of your property 24/7 
Out of hours emergency numbers provided to your Tenants 
Online guidance provided to Tenants alleviating unnecessary works
Deposit Alternative Insurance
LET DEPOSIT-FREE: Instead of paying a deposit, Tenants sign up to our partner's Goodlord's, Deposit Alternative scheme. Tenant are still liable for any breach in their Tenancy Agreement and must pass referencing to be eligible
INCREASE YOUR PROTECTION: We offer up to 8 weeks protection for Landlord's, instead of the usual 5 weeks.
FEWER VOID PERIODS: Lower upfront costs for Tenants, and faster payouts for lawful claims (within 14 days) help you re-let faster
MORE TENANTS: Cash deposits are expensive – stand out on the property portals and broaden your audience
CONTROL ON-THE-GO: Stay up to speed with your property's activity 24/7, on any device through our simple platform, PropertyFile
Rental Protection
Up to £50,000 cover for loss of rent 
Up to £100,000 legal Expenses cover 
NIL EXCESS 
Continued payment of rent until vacant possession 
If claim is made, solicitors will serve appropriate notice
*Subject to terms & conditions – Ask your representative for more details. 1 Only available for Rent Collection, Fully Managed and Concierge clients
Legal Expenses Cover
Protecting you from the costly legal fees that come with evicting a defaulting Tenant
Up to £100,000 of legal Expenses to Cover Eviction costs
Provide Access to a Free Legal Advice Helpline
Easy to use Online Claim system
Cover available for 6 or 12 months
Renewals Available
Service available to landlords
Choose the service option that best suits you
Competitive and transparent rates
Dedicated service and delivery whatever chosen service
NO LET NO FEE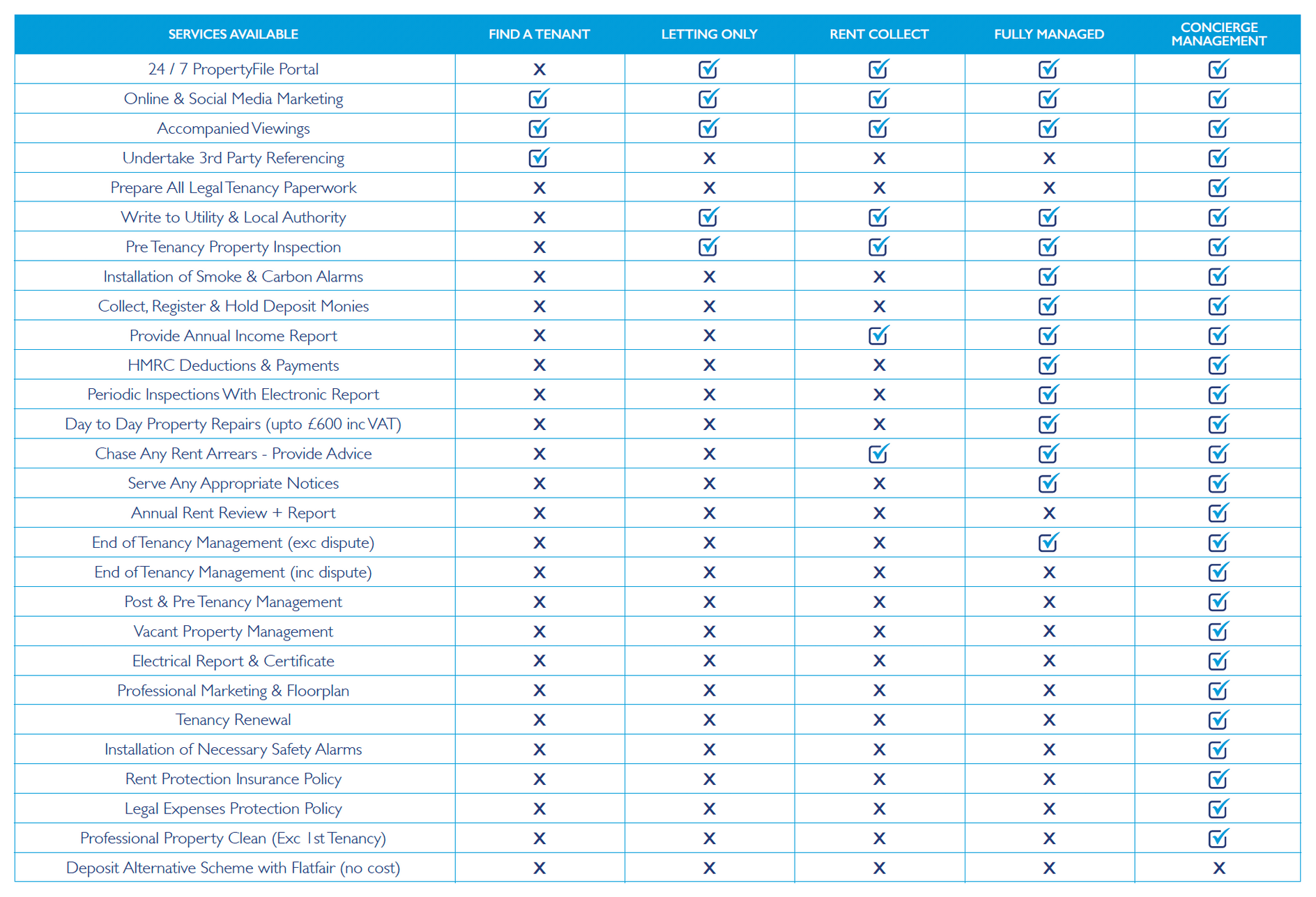 Want to learn more?
Why not learn more about our landlord services and how to let your property with peace of mind.